Son of Stuxnet? Variants of the cyberweapon likely, senators told
The Stuxnet cyberworm could soon be modified to attack vital industrial facilities in the US and abroad, cybersecurity experts warned Wednesday at a Senate hearing.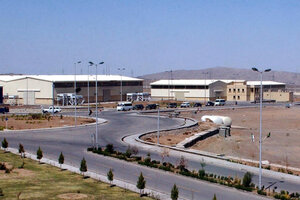 Vahid Salemi/AP/File
Stuxnet, the first known weaponized software designed to destroy a specific industrial process, could soon be modified to target an array of industrial systems in the US and abroad, cyber experts told US senators Wednesday.
The Stuxnet malware, discovered this summer, was apparently designed to strike one target – Iran's nuclear-fuel centrifuge facilities, researchers now say. But Stuxnet's "digital warhead," they caution, could be copied and altered by others to wreak havoc on a much grander scale.
Variants of Stuxnet could target a host of critical infrastructure, from the power grid and water supplies to transportation systems, four cybersecurity experts told the Senate Committee on Homeland Security and Governmental Affairs.
"The concern for the future of Stuxnet is that the underlying code could be adapted to target a broader range of control systems in any number of critical infrastructure sectors," said Sean McGurk, acting director of the National Cyber-security and Communications Integration Center at the US Department of Homeland Security.
---