Pilots to be exempt from airport scanners, intrusive pat-downs
Airline pilots will no longer have to go through body scanners or be subject to body pat-downs, as do ticketed passengers. TSA is also testing scanners designed to be less intrusive.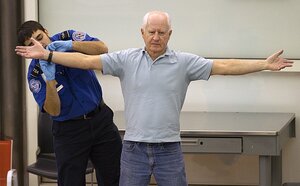 Newscom
Faced with widespread resistance to what some passengers see as personally intrusive air travel security measures, US officials are looking for ways to ease the demands on those who fly on commercial airliners.
That starts with those flying the aircraft.
Beginning in 2011, airline pilots will no longer have to go through scanners or be subject to full-body pat-downs, just as ticketed passengers now do. Instead, they'll simply need to have their airline-issued ID checked by computer.
"This one seemed to jump out as a common-sense issue," Transportation Security Administration (TSA) chief John Pistole told Bloomberg News on Friday. "Why don't we trust pilots who are literally in charge of the aircraft?"
That's exactly the point commercial airline pilots have been making for years.
The Airline Pilots Association, International (ALPA), which represents nearly 53,000 pilots at 38 US and Canadian airlines, notes that its members "are trustworthy by definition of their employment and responsibilities."
"They have been subjected to extensive FBI background checks and thousands are deputized as Federal Flight Deck Officers by the TSA who carry and are authorized to use lethal force while on duty to defend the cockpit from a terrorist threat," ALPA said in a recent statement. "Screening airline pilots for the possession of threat objects does not enhance security because pilots have the safety of their passengers and aircraft in their hands on every flight."
---
Follow Stories Like This
Get the Monitor stories you care about delivered to your inbox.