Obama notes travelers' plight, but won't change airport security
President Obama and Secretary Clinton sympathize with air travelers irked by intrusive security measures, including X-rays and body pat downs. But for now, things are unlikely to change.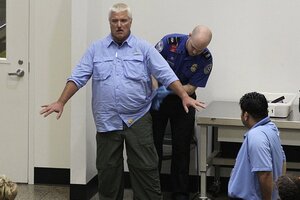 Ted S. Warren/AP
You can bet that before President Obama climbed aboard Air Force One for his trip home from the NATO summit in Portugal this weekend, he did not have to raise his arms in front of an X-ray scanner. Nor did a blue-gloved Transportation Security Administration officer run his hands over the presidential torso, feeling every bump and crevice from stem to stern.
That's one of the benefits of being Commander in Chief. It's just assumed that you're not a security risk.
But if you're one of the 1.6 million Americans flying commercially this Thanksgiving week, Obama does feel your pain.
"I understand people's frustrations," he said at a postsummit press conference in Lisbon. "And what I've said to the TSA is that you have to constantly refine and measure whether what we're doing is the only way to assure the American people's safety. And you also have to think through … ways of doing it that are less intrusive."
"Every week I meet with my counterterrorism team and I'm constantly asking them whether … what we're doing absolutely necessary," the president went on. "Have we thought it through? Are there other ways of accomplishing it that meet the same objectives?"
RELATED: Travelers, lawmakers up in arms over airport security measures
Secretary of State Hillary Clinton expressed the same empathy for civilian air travelers on the Sunday talk shows.
---