Black Friday 2010: Outlook for season rises from 'ho-hum' to 'ho-ho!'
Retailers are opening their doors on Black Friday 2010 to shoppers who appear to be more enthusiastic. But many people are sticking closely to their shopping lists.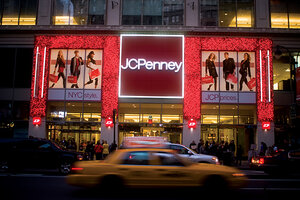 Newscom/File
Once the contentious elections ended, shopkeeper Linda Day noticed that her customers began to spend again.
"They are spending money on luxury items and buying cocktail dresses for parties," says Ms. Day, owner of Arabella's, a McKinney, Texas, emporium that sells clothes, jewelry, and shoes. "Two years ago, no one held parties."
Day says she believes the spending will continue right through the holidays. "People are happy to be shopping again," she says with Lone Star enthusiasm.
RELATED: Target Black Friday ad: $298 HDTV, $3 appliances
Her optimism is not misplaced, say retail analysts. They predict that this holiday period, which begins the day after Thanksgiving (Black Friday), will be better than last year's, which was only ho-hum, and far better than 2008's, which was a disaster. Behind the improved outlook is some pent-up demand, a somewhat better consumer outlook, and a feeling among many people that their jobs are safe despite the 9.6 percent October unemployment rate.
"I think people are saying, 'As long as I have my job, I will keep it,' " says Bill Martin, founder of ShopperTrak, a Chicago-based retail analyst. "They feel they have a bit of a cushion, and we know that with cash in hand, people will go out and make a purchase."
---