WikiLeaks' Julian Assange: How much trouble is he in?
Wikileaks founder Julian Assange could be prosecuted under the Espionage Act, but the US has historically avoided pursuing leak recipients. His primary concern is a 'red alert' issued by Interpol for alleged sex crimes in Sweden.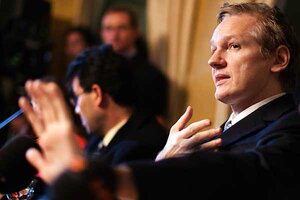 Valentin Flauraud/Reuters
WikiLeaks founder Julian Assange has grabbed the world's attention by publicizing a vast trove of secret US diplomatic documents. But his actions have also enraged top government officials around the world. How much trouble is he in, legally speaking?
Perhaps more than he has bargained for. Mr. Assange could be sent to prison for a very long time if the US is able to successfully prosecute him under the Espionage Act. The statute is a broad law that provides for harsh penalties, notes Stephen Vladeck, an expert in national security law at American University in Washington.
The real question may be whether the US Department of Justice wants to pursue the matter. Historically, the US has not prosecuted leak recipients. The US might not be eager to provide Assange a courtroom forum in which he can bring further attention to the contents of his trove of classified cables.
"Legally he is in quite a bit of trouble," says Mr. Vladeck. "It remains to be seen if that is true in a practical sense."
At the moment, Assange's primary legal trouble is in Sweden, not the US. The international police organization Interpol has issued a "red notice" on Assange in conjunction with an arrest warrant for sex crimes filed in November by Sweden's International Public Prosecution Office.
---