New Orleans makeover: economic boost or loss of a historical legacy?
Post-Katrina, New Orleans looks to diversify its economy beyond tourism. But plans for a mammoth biomedical facility mean historic homes will be relocated, or razed.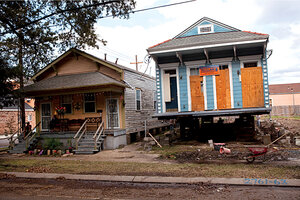 Melanie Stetson-Freeman/Staff
The parade crawling up Tulane Avenue in this city is unusually quiet. No one is dancing to marching bands. No one is cheering for beads to be thrown from atop a float.
That's because there are no floats. This parade features only modest, one-story homes more than 100 years old, jacked up on steel beams and dragged slowly by pickup trucks to their new location a few miles away. The procession is the result of one of the most controversial urban-planning projects in New Orleans since hurricane Katrina. On one side are those who fear that the city's historic character is being steamrolled by state and federal lawmakers. On the other side are those who say sacrifices are in order if the city wants to advance an economic comeback.
The controversy involves nearly 265 homes in the Lower Mid-City neighborhood, a 30-acre area recognized by the National Register of Historic Places. It borders downtown and is across from the city's medical district, decimated by Katrina.
Even before the storm, the federal government was moving forward to build a new veterans hospital to replace the cramped one in the district. When Katrina damaged the hospital, those plans were hastened. In late 2008, the state announced it wanted to move the hospital project to Lower Mid-City and started the process of acquiring homes.
In addition to the $800 million federal complex planned for the site, the state plans to open a 424-bed medical teaching facility to succeed Charity Hospital, a nationally recognized historic landmark that was abandoned after the storm. Also, Louisiana State University is planning a new medical center and teaching hospital across the street from the veterans-hospital site.
---