East's early cold: 'Greenland Block' lets Arctic air slip to Deep South
The depth of this winter's chill will depend on the 'Greenland Block' – a high-pressure bulldozer that holds up warmer winds from the equator and steers Arctic air toward the Deep South.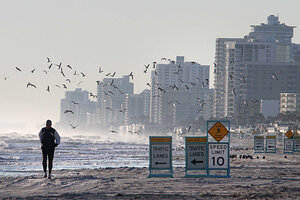 Jim Tiller/Daytona Beach News-Journal/AP
The kids funneling into Atlanta's Toomer Elementary School Tuesday morning had just one thing to say from under their pulled-down hats: BRRRR!
Already producing one of the earliest hard freezes in recent years, the Arctic cold snap that's toe-chilling the East Coast is a variant of last year's deep chill that hit the South in January, stunning hundreds of Florida sea turtles midswim and causing iguanas to drop out of palm trees.
The guilty party for the early freeze is the aptly named Greenland Block – basically the meteorological version of beefy New England Patriots linebacker Vince Wilfork.
In essence, the high-pressure system is holding up warmer winds from the equator and steering Arctic air down its flanks, creating a dramatic zig-zag pattern in rivers of air that normally flow more parallel to the equator.
That, in turns, creates more regional phenomena like the "Alberta clipper" cold front, which blew into the Deep South over the weekend. The Greenland Block, in other words, is the X factor that will determine the depth and extent of this year's winter for millions of Americans.
---
Follow Stories Like This
Get the Monitor stories you care about delivered to your inbox.