Pearl Harbor day: How FDR reacted on December 7, 1941
December 7, 1941, now known as Pearl Harbor day, arrived as the country remained hopeful for peace. President Franklin Roosevelt reacted to the intense day with 'deadly calm,' his wife Eleanor would later recall.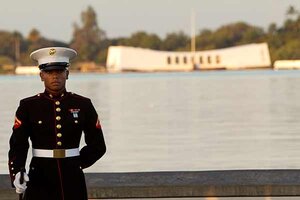 Marco Garcia/AP
December 7, 1941, was clear and cold in Washington. The mood in the nation's capital was anxious and somber, as it was in the rest of the country. France and much of Europe had fallen to the Nazis. German tanks were pounding on the doors of Moscow. The United States had just extended its draft act – by one vote. That told the strain, wrote legendary Monitor correspondent Richard Strout. He'd just returned from a reporting tour of the country, where he found a populace living with a hope of peace while the rest of the world was at war.
"We were all very matter-of-fact until December 7," he wrote on the 40th anniversary of that fateful day.
At the White House Eleanor Roosevelt was hosting a luncheon. President Franklin Roosevelt was in what was then known as the Oval Study of the White House, eating with his close friend and aide Harry L. Hopkins. At 1:40 PM the lunch was interrupted by a phone call from Secretary of the Navy Frank Knox. He told FDR that the Navy had received a radio message from Honolulu saying that Pearl Harbor was under attack, and that it was "no drill."
---
Follow Stories Like This
Get the Monitor stories you care about delivered to your inbox.