Obama to sign bill awarding payments to black farmers: justice or 'fraud'?
President Obama signs a law Wednesday aimed at rectifying USDA actions that undercut black farmers. Some conservatives call it 'modern-day reparations' that reward political friends.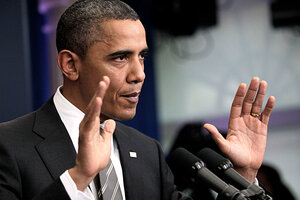 Pablo Martinez Monsivais/AP
President Obama intends to sign a $1.15 billion settlement for black farmers on Wednesday, bringing to a close what he has called "a painful chapter in American history" – discrimination that led to blacks losing their grip on the land.
Years in the making, the so-called Pigford II settlement has stirred much debate about government responsibility to repay blacks for unfair US Department of Agriculture (USDA) loan policies and about whether such settlements amount to backdoor reparations for general historic discrimination.
The legislation opens the way for about 80,000 blacks to settle claims expected to average $50,000. Many conservatives see it as an outright raid on the US Treasury that could put taxpayers on the hook for more direct payments to Democratic special-interest groups in the farm sector, namely women and Hispanics who are preparing separate lawsuits. (White farmers, too, are planning to sue the USDA over its loan policies.)
"Any time you're trying to go back and compensate people based on past discrimination, figuring out who should be compensated and how much is always tricky, so the devil's in the details," says Alan Abramowitz, a political scientist at Emory University, in Atlanta.
---