Why are USDA officials off the hook in case of bias against black farmers?
As President Obama signs a taxpayer-funded settlement in case of bias against black farmers, some Americans ask: Why didn't any heads roll? Ex-USDA employee Shirley Sherrod is one.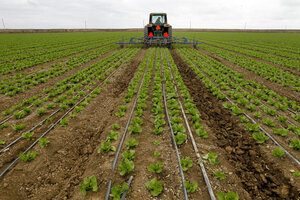 Tony Avelar /The Christian Science Monitor
Discriminating against black farmers turned out to be a giant mistake for the US Department of Agriculture, with taxpayers now on the hook for settling tens of thousands of claims to correct an injustice that led to the demise of thousands of black farms across the heartland. Yet the only USDA official even remotely involved in the so-called Pigford II settlement to ever get fired, or even punished, was Georgia rural director Shirley Sherrod, who is black.
Ms. Sherrod found herself at the center of racial firestorm in July, when a conservative commentator circulated a video in which Sherrod acknowledged her refusal to help a white farmer to the best of her ability. She was subsequently fired by Agriculture Secretary Tom Vilsack, and then invited back when the full, unedited context of her remarks became known. (She declined the offer.)
---