Elizabeth Smart kidnapper convicted, jury rejects insanity defense
Elizabeth Smart was kidnapped for nine months at age 14. Lawyers for Brian David Mitchell didn't contest that he kidnapped Elizabeth Smart but said he was not guilty by reason of insanity.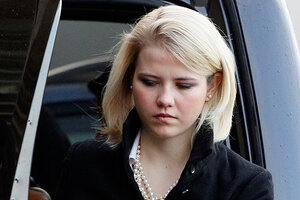 Colin E. Braley/AP
A jury found a rambling street preacher guilty Friday of the 2002 kidnapping of Elizabeth Smart in a case that has tugged at hearts around the nation ever since the Utah teenager was snatched from her bedroom and resurfaced nine months later.
Brian David Mitchell could face up to a life in prison when he is sentenced.
Elizabeth Smart gave a slight smile as she heard the guilty verdict then turned to her mother and both smiled.
The shackled Mr. Mitchell was present in the courtroom and sat singing throughout the reading so the verdict. He sang about Jesus Christ on the cross and held his hands in front of his chest as though he was praying.
Ms. Smart and her family have hoped for the guilty verdict and a long sentence to end the ordeal that began when she was taken from her Salt Lake City home at knifepoint and held captive for nine months when she was 14.
Smart, now 23, attended the entire trial and provided gripping testimony, describing how she woke up one night to the feel of a cold, jagged knife and being thrust into "nine months of hell" in a mountainside camp.
She said she was forced into a polygamous marriage and endured nearly daily rapes before she was found.
To the chagrin of the family, the case was delayed for years after Mitchell was declared mentally incompetent to stand trial in state court and a judge refused to order involuntary medications. Federal prosecutors later stepped in and took the case to trial.
---