Border patrol agent killed: Are smugglers becoming more daring?
Border patrol Agent Brian Terry was killed in a gun battle Tuesday night. It could be a sign that smugglers are becoming more willing 'to just to shoot it out with agents.'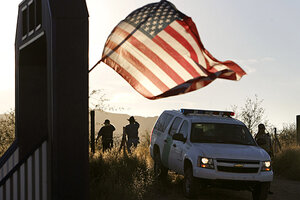 Greg Bryan/Arizona Daily Star/AP
The death of a border patrol agent in an nighttime gun battle Tuesday near the Arizona border has brought renewed calls for increased security from those who view the killing as a sign of growing violence along the international line.
Local officials note that deadly attacks against agents are rare in the area, with the last one happening in 1998. But the head of the border patrol agents' union acknowledges that smugglers are showing an increasing tendency to stand and fight when confronted by US law enforcement.
Border patrol agent Brian Terry died in the shootout between members of the agency's tactical unit and several gunmen about 10 miles north of Nogales, according to Santa Cruz County Sheriff Tony Estrada. Four suspects were arrested and authorities continued to search for a fifth Wednesday.
The confrontation took place about at 11 p.m. in well-known spot for the smuggling of drugs and people. The sheriff said the shootout was "relatively close to residential areas."
As with the still-unsolved shooting death of Cochise County rancher Robert Krentz in March, Arizona politicians quickly seized upon the agent's slaying to demand more federal action.
---