Border deaths for illegal immigrants hit record high in Arizona sector
The number of bodies recovered in the Tucson sector hit a record high in fiscal 2010, even as the number of illegal immigrants crossing the border declined.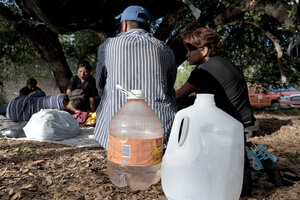 Alfredo Estrella/AFP Photo/Newscom
The discovery of record numbers of bodies along the Tucson sector of the US-Mexico border suggests that border crossings for illegal immigrants are becoming deadlier as heightened security forces migrants into remoter and more forbidding areas.
In fiscal 2010, which ended Sept. 30, authorities reported fewer border crossings overall. But the 252 bodies recovered surpassed the previous record of 237 in fiscal 2007.
"People go through areas that are harsher, where a lot of people are getting hurt and dying," says Raquel Rubio-Goldsmith, coordinator of the University of Arizona's Binational Migration Institute.
A record-breaking heat wave last summer could also have played a role. Moreover, there are more border patrol agents on the ground, and some of these agents patrol more isolated spots, increasing the likelihood of finding bodies, Ms. Rubio-Goldsmith says.
Because the border is fortified with manpower and high-tech surveillance, smugglers do whatever it takes to get their human cargo into the country and collect profits – including going into far-flung regions. There, they sometimes abandon sick or weary border-crossers who can't keep up with a group, says Colleen Agle, a border patrol agent in the Tucson sector, which covers most of the Arizona international line.
---