Julian Assange in the crosshairs: Is he being unfairly vilified?
WikiLeaks founder Julian Assange seems to be on just about everyone's hit list in Washington. But there are some who call for restraint, saying the legal issues are murky at best.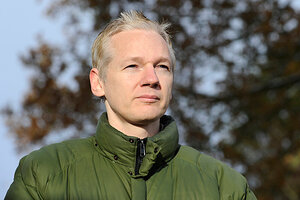 Paul Hackett/Reuters
WikiLeaks founder Julian Assange is pretty unpopular in the United States at the moment. The Justice Department likely has a secret grand jury considering whether to indict him. Some members of Congress have called for the US to neutralize Mr. Assange – implying that the CIA should snatch him off the street, or worse.
Assange himself isn't trying to smooth things over. On Friday he darkly implied that all his legal troubles are the result of an international conspiracy and said that the US investigation of his actions is "illegal."
But even paranoids have real enemies. Is Assange in fact being unduly vilified in Washington?
House Judiciary Committee chairman John Conyers of Michigan, for one, thinks he is. Representative Conyers used that phrase – "unduly vilified" – in regards to Assange on Thursday when he called to order a hearing on the constitutional and legal ramifications of WikiLeaks' recent actions.
"When everyone in this town is joined together calling for someone's head, it's a pretty sure sign that we might want to slow down and take a closer look," said Conyers.
---