Gas prices hit $3 a gallon, highest in 27 months. Will they go higher?
Now at an average price of $3 a gallon, gasoline could cost at least $3.50 a gallon by spring. Rising gas prices go hand in hand with higher oil prices, driven up by outlook for a stronger economy.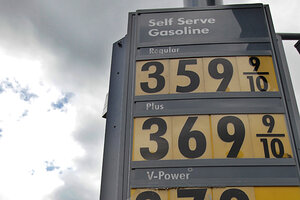 Paul Sakuma/AP
The average pump price for a gallon of gasoline rose to $3 on Wednesday, according to AAA, Wright Express, and Oil Price Information Service. That's more than 13 cents higher than a month ago and 41 cents above a year ago.
The last time gasoline averaged $3 a gallon was in October 2008, as prices drifted down from record highs above $4 a gallon in the summer of that year.
Gasoline prices have been rising steadily with oil prices for the past month, and many analysts say that trend will continue, with gas stations across the country charging about $3.50 a gallon or more by spring.
Oil prices climbed past $90 a barrel on Wednesday as the government reported a drop in the nation's crude supplies. Benchmark oil rose 66 cents to settle at $90.48 on the New York Mercantile Exchange.
In its weekly petroleum report, the Energy Department's (DOE) Energy Information Administration said crude supplies dropped by 5.3 million barrels last week from the week before. That's more than twice the decline expected by analysts surveyed by Platts, the energy information arm of McGraw-Hill Cos. EIA said gasoline supplies grew by more than 2 million barrels.
---