Thermoses, coffee cups added to list of possible terrorist weapons
During the busiest travel season of the year, travelers carrying thermoses or beverage cups – which could be used to conceal explosive materials – may be subject to extra scrutiny.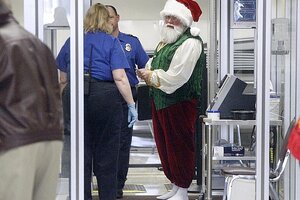 Scott Heckel/The Repository/AP
Airline travelers this holiday season have one more thing to think about: whether to pack or carry a thermos bottle or beverage cup.
On one of the busiest travel days of the year, federal officials have alerted travelers to the likelihood of extra scrutiny regarding such items – which could be used to conceal explosive materials.
"Passengers traveling with insulated beverage containers can expect to see additional screening of these items using procedures currently in place, including X-ray screening, physical inspection and the use of explosives trace detection technology," states an advisory issued Thursday night by the Transportation Security Administration (TSA).
Officials note no specific threat regarding thermos bottles and cups. But the warning to Christmas Eve travelers and others flying on airliners over the winter holidays – 43.6 million people, according to the Air Transport Association of America – comes as part of a broader official effort regarding airport and airline security.
The year has seen a number of specific threats and foiled terrorist attempts, beginning with the "underwear bomber" on a Northwest Airlines flight from Amsterdam to Detroit last Christmas.
---