Airport outrage: Will airlines be fined for three-hour delays on tarmac?
The US Transportation Department can fine airlines that force passengers to wait in an airplane on the tarmac for more than three hours. The blizzard aftermath could be a test case.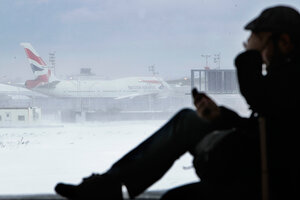 Seth Wenig/AP
Significant airport delays continued for US air travelers on Wednesday, as airlines struggled to work through a backlog of passengers three days after a major blizzard landed squarely on New York City.
Amid the winter storm and its aftermath, some flights were stuck on runways for three hours or more, loaded with passengers but not taking off. That could make the storm a test of enforcing a Transportation Department "tarmac rule" that put a three-hour limit into effect earlier this year.
It may not be known for weeks, however, if any airlines will face fines under that rule.
"The Department of Transportation is reviewing the details surrounding the incidents at New York and other extended delays," says Olivia Alair, press secretary for the department. "If consumers believe they've been party to a violation ... they can also report that to the DOT on our website."
---