Indiana earthquake 'extremely rare and unprecedented'
An Indiana earthquake Thursday, measured at a magnitude of 3.8, is the strongest ever recorded in that part of the state, which rarely sees earthquakes. No damage has been reported.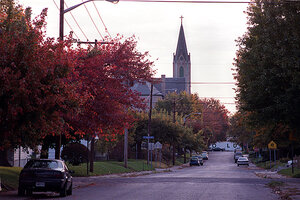 Newscom/file
An earthquake that took place before sunrise Thursday in north central Indiana is being evaluated as rare despite many well-known fault lines in the area.
The US Geological Survey reported a 3.8-magnitude earthquake, centered just east of Kokomo, Ind., about 57 miles north of Indianapolis. The earthquake occurred about 3 miles underground and could be felt as far south as Indianapolis, as far east as Dayton, Ohio and as far northwest as Elgin, Ill., about 40 miles outside Chicago.
Calling the earthquake "extremely rare and unprecedented," John Steinmetz, director of the Indiana Geological Survey at Indiana University in Bloomington, said there have not been any earthquakes of similar magnitude in northern Indiana in 175 years. Mr. Steinmetz added that it demonstrates how little is known about the earth's structure in that region of the country.
---