For Los Angeles, fewest homicides since 1967. Why the drop?
In 2010, Los Angeles saw 297 homicides – down from more than 600 a year in the 1990s. The mayor and police groups praise the LAPD, but other are dubious.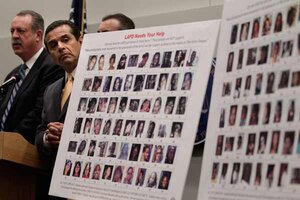 Jae C. Hong/AP
Los Angeles saw its lowest level of homicides in more than 40 years in 2010, but law enforcement and community leaders can't seem to agree on why violent crime has fallen.
On Tuesday Los Angeles Mayor Antonio Villaraigosa and Los Angeles Police Department Chief Charlie Beck announced that the city of Los Angeles finished 2010 with 297 murders, quite a drop from the 1990s, when annual homicides regularly topped 600.
"Today, I am proud to announce that last year, in 2010, Los Angeles had fewer murders than at any point since 1967," Mayor Villaraigosa said at a downtown press conference Tuesday. "Even during tough economic times, we have kept our sights on a more hopeful, promising, and safer future and the statistics once again shed light on a much brighter outcome for our city."
The homicide rate per 10,000 people was 0.74 – the lowest since 1964, when Los Angeles had a per capita rate of 0.66.
Police unions, urban policy analysts, and the ACLU all released statements praising the LAPD's efforts at building bridges with the communities it serves.
"The LAPD took three major steps that turned what arguably was once the nation's poster police agency for racism, abuse, violence, and brutality into a model of professionalism, efficiency, and community sensitivity," says Earl Ofari Hutchinson, president Los Angeles Urban Policy Roundtable.
---