Mail attack on Maryland government buildings singes two workers
Two packages mailed to Maryland government buildings ignited Thursday, producing smoke and odor and singing the fingers of two workers. Police suspect the two events, coming 15 minutes apart, are connected.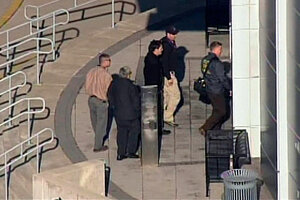 WBAL-TV/Reuters
Two book-size packages containing incendiary devices ignited in Maryland state government buildings Thursday shortly after noon, producing smoke and odor but only minor injuries to two workers, Maryland State Police officials said.
Investigations into both incidents "are continuing," state police spokesman Greg Shipley said in a televised news conference, adding that authorities "have indications" that the events are connected. The devices caused an "incendiary reaction producing small flame and fire," he said. He said that "no explosive material has been found."
The first incident occurred about 12:30 p.m. at the Jeffrey Building in downtown Annapolis, the state capital. The building contains gubernatorial offices including the Office of Homeland Security and the Veterans Affairs department. When the package was opened, it triggered what the state police described as a flash of fire, smoke, and a sulphur smell. For the employee who opened the package, the result was "fingers being singed," Shipley said.
---