Arizona shooting suspect charged with trying to assassinate Rep. Giffords
Federal authorities also charged Jared Lee Loughner, the Arizona shooting suspect, with two counts of murder. President Obama calls for a moment of silence Monday at 11 a.m. EST.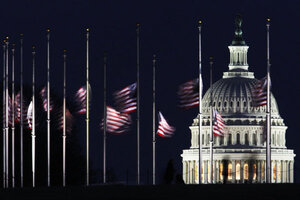 Manuel Balce Ceneta/AP
Federal authorities on Sunday charged Jared Lee Loughner with the attempted assassination of Rep. Gabrielle Giffords (D) of Arizona as well as the murders of the chief federal judge in the state and an aide to Ms. Giffords.
Giffords, who remains in critical condition, was shot Saturday morning outside a Safeway in Tucson, where she was holding a "Congress on Your Corner" event to meet with constituents. Six people were killed by the gunman and 13 others wounded.
Mr. Loughner, 22, who was apprehended at the scene after being overpowered by people in the crowd around Giffords, likely will also face state charges. Other federal charges against Loughner include the attempted murder of two additional members of Giffords' staff.
President Obama, who earlier described the shooting as "an unspeakable tragedy," called Sunday for Americans to observe a moment of silence Monday at 11 a.m. (eastern standard time) to honor the slain victims as well as those still fighting to live.
"It will be a time for us to come together as a nation in prayer or reflection, keeping the victims and their families closely at heart," the president said in a statement. He signed a proclamation Sunday calling for flags to be flown at half-staff.
---