Jared Lee Loughner: what is known about Tucson, Arizona, shooting suspect
Jared Lee Loughner is refusing to tell investigators anything about a motive for the Tucson, Arizona, shooting, but he appears to be a familiar character in American life: a disturbed outsider with a gun.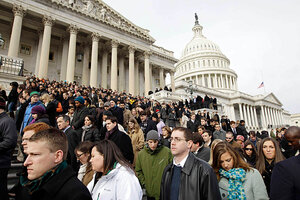 Charles Dharapak/AP
Jared Lee Loughner, the man charged in the Tucson, Arizona, shooting spree that left six people dead and Rep. Gabrielle Giffords gravely wounded, appears to be the kind of person with which Americans have become all too familiar in recent decades: the disturbed outsider with grievances and a gun.
Mr. Loughner himself has made no comment on the reasons for his alleged actions on Saturday, according to local law enforcement officials. He has not said a word to investigators since being taken into custody, said Pima County Sheriff Clarence Dupnik in a broadcast interview Monday.
But the emerging portrait of the 22-year-old suspect shows him as someone whose grip on reality became increasingly tenuous in recent years as he espoused wild philosophical beliefs and was expelled from community college for bizarre behavior.
American Renaissance: Was Jared Lee Loughner tied to anti-immigrant group?
"This individual is a very troubled individual, and he's a typical troubled individual who's a loner," said Sheriff Dupnik on ABC's "Good Morning America."
---