Car charging network grows in Austin
Local utilities and states push to add car charging stations in anticipation of more E-cars hitting the road.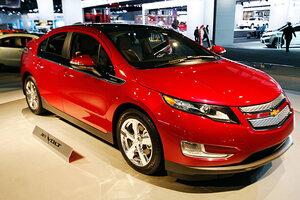 Mark Blinch/Reuters
As Chevrolet and Nissan roll out the first substantial wave of electric vehicles, a handful of municipalities around the United States are offering a first glimpse of how the need for power outlets – instead of gas pumps – might reshape cities in the years ahead.
In Houston, charging points are planned at select spots around the city, as well as in the parking lots of retailers such as Best Buy – all in a bid to ease "range anxiety," the fear that an electric car will run out of juice on the roadside.
San Francisco is experimenting with charging stations that let drivers pay by credit card.
And planners in Austin, Texas, are working to make sure drivers don't black out a neighborhood by charging all their cars at peak hours.
For now, most of the efforts remain local, meaning drivers won't be able to venture far from these cities' nascent networks of charging points. But these early adopters are laying a groundwork that other municipalities may someday build upon.
In many ways, Austin is a forerunner of the electric-car movement. It was one of seven US cities to receive General Motors's first shipment of its Volt – an electric car that uses a small combustion engine as well as a plug for charging – earlier this month. And Nissan's fully electric Leafs will be arriving in a few weeks. More than 150 electric vehicles are expected on Austin's streets by summer.
---