Illinois tax hike: Will businesses flee to Wisconsin?
The day the Illinois Legislature approved a 46 percent corporate tax hike, Wisconsin's governor released a statement to woo disgruntled businesses. But experts say Illinois' broader fiscal health – not its tax rate – will be the greatest concern for in-state firms.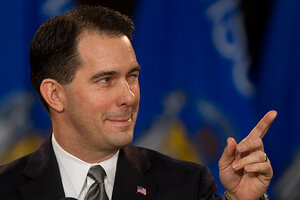 Morry Gash/AP/File
When Illinois legislators voted to raise its corporate income-tax rate by more than 46 percent Wednesday in a party-line vote, Republicans warned that the decision would drive businesses to neighboring states with either lower tax rates or a better record of fiscal responsibility.
Apparently, Wisconsin Gov. Scott Walker (R) was listening.
On Wednesday, he unveiled Wisconsin's pitch to Illinois-based businesses: "Years ago Wisconsin had a tourism advertising campaign targeted to Illinois with the motto, 'Escape to Wisconsin.' Today we renew that call to Illinois businesses … You are welcome here. Our talented workforce stands ready to help you grow and prosper," Governor Walker said in a statement.
The statement came with a fact sheet that touted the efficiencies of its fiscal record: a balanced budget without an increase in taxes, proposals to cut taxes for businesses considering relocating to the state, and reduced spending.
But Walker was not the first Illinois neighbor to pile on the misery. Last week, with the impending tax hikes already apparent, Indiana Gov. Mitch Daniels (R) told the Northwest Indiana Times: "We already had an edge on Illinois in terms of the cost of doing business, and this is going to make it significantly wider. Folks in Illinois will eventually have to decide: Is this working well enough for us or do we want something different?"
The notion that low corporate tax rates lure business is antiquated, say most analysts. Taxes pay for improved education systems, transportation, and other services that are important to businesses. Rather, what is important is a full picture of a state's financial health – and that is how both states are trying to sell Illinois businesses on a move.
---