Arizona shooting: a week of agonizing, arguing, praying, investigating
US Rep. Gabrielle Giffords, targeted in last week's Arizona shooting, continues to improve; a Tucson Safeway store reopens; and investigators work to build their case against Jared Loughner.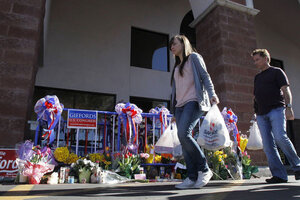 Ross D. Franklin/AP
A week has passed since America – and Tucson, Ariz., in particular – was horrified, revolted, and grieved by a mass shooting at a congresswoman's routine event with constituents outside a Safeway supermarket.
In that time President Obama has three times spoken to the nation, in a bid to comfort and unite. In that time three of the six people killed in the shooting have been laid to rest. In that time the Safeway has reopened, with store spokeswoman Cathy Kloos on Saturday noting employees' desire to "reconnect with their customers" and affirming, "We're doing OK."
The initial round of castigation – liberals and conservatives feuding over who's more at fault for a climate of political "vitriol" and whether that played into the tragedy – has subsided. Lawmakers in Congress are considering whether Republicans and Democrats ought to intermingle in the audience at the upcoming State of the Union address, in a gesture of comity. Doctors say Rep. Gabrielle Giffords (D), the apparent target of the attack, continues to improve after being shot in the head and is off a ventilator, raising hopes for her recovery, and 10 of the 13 wounded have been released from the hospital.
---