How did gun in 'accidental' Gardena High School shooting get by security?
The gun of a Gardena High School student apparently went off accidentally, seriously injuring two, police said Tuesday. But Gardena High School checks students with security wands.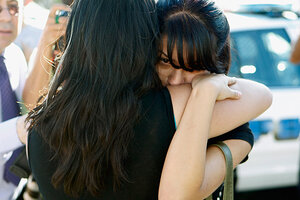 Damian Dovarganes/AP
Police are classifying a morning classroom shooting that wounded two students at Gardena High School in Los Angeles as possibly accidental.
The student who brought the gun said, "I'm sorry," when it went off and ran to another classroom, said Deputy Chief Patrick Gannon of the Los Angeles Police Department. The student, whose name has not been released, was taken into custody and moved to a downtown police station while the school was locked down.
The gun was apparently in a backpack, and it went off when the backpack was dropped, said a spokesman for the L.A. United School District. A 15-year-old girl was hit in the head and was in critical condition and a 15-year-old boy suffered a neck wound and was in serious condition. Authorities said both injuries were probably caused by one bullet.
The episode will likely spotlight screening procedures at schools across the US as well as public and parental responsibility, say criminologists. They worry that public reaction could lead to calls for more metal detectors, video surveillance, and sign-in procedures that, they say, tend to create a fortress mentality for schools – even though incidents of shooting deaths remain extremely rare.
"In the immediate short term, you can understand parents and public desire for increased protections," says James Alan Fox, a criminologist at Northeastern University and author of "Violence and Security on Campus: from Pre-school through College." But from 1999 to 2005, he notes, fewer than 100 school-age children were killed in school homicides, compared with 105 in storms, over 1,000 in bicycle accidents, and 800 in pool drownings.
---