Hu Jintao in America: 7 questions about the Chinese president's visit
Hu Jintao will be the guest of President Obama this week for what some US-China experts are calling the most important US visit by a Chinese leader since Deng Xiaoping's groundbreaking trip in 1979. The intrigue then was around the opening-up of the communist giant. But some three decades later the focus is very different, as China becomes an increasingly active and self-confident player both in the international economy and on the global diplomatic stage. Here are seven key questions pertaining to US-China relations in light of President Hu's visit: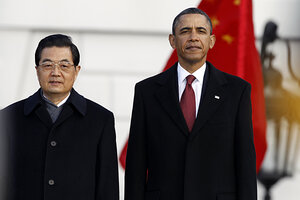 Larry Downing/Reuters
1. How important will economic issues be?

Obama says he wants to focus on jobs and the economy in 2011, and he will have an early opportunity to underscore that emphasis with Hu's visit. Obama calls for a "rebalancing" of trade relations – currently China's trade surplus with the US has ballooned to nearly $230 billion – so that the Chinese become bigger consumers of products "made in USA."

Another key element for the US is improving Chinese respect for intellectual property rights. In the run-up to Hu's visit, Chinese trade officials have promised tighter controls on the thefts of foreign innovations and violation of copyrights, but the administration wants more than promises.