TSA looks to expedite screening for air cargo on US-bound passenger planes
Screening for all air cargo shipped to the US via commercial passenger planes must be in place by the end of 2011, under a TSA proposal. The Yemen bomb plot led TSA to accelerate its timetable.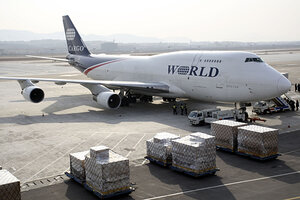 Zuma press/Newscom
The Transportation Security Administration is moving ahead, on a faster-than-expected timetable, to close a gap in security screening of international air cargo carried aboard US-bound passenger flights.
Air freight forwarders and members of the global shipping industry learned Friday that TSA appears poised to require them to screen, by year's end, 100 percent of such cargo bound for the United States. That would be two years sooner than expected.
Just last year, the TSA told Congress that screening 100 percent of international in-bound air cargo would be delayed until at least 2013. But TSA is looking to accelerate that timetable after the terrorist bombing attempt in late October, in which explosives were secreted inside printer cartridges sent from Yemen to Chicago – and were intended to blow up in cargo holds of passenger jets while they were in the air. [Editor's note: The last two paragraphs were changed post-publication to make clear that the requirement is not yet final.]
Carriers now have 45 days to comment on the proposed mandate, with TSA reviewing industry comments before it makes the rule final.
---