Winter mess socks Northeast, more snow storms 'stacked' behind it
A wintry mix of snow turning to slush and freezing rain hit New York and Boston Tuesday, and one meteorologist says a line of snow storms is set to hit the Northeast from now to February.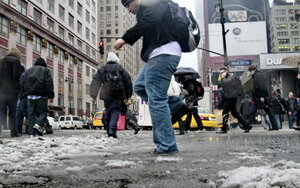 Bebeto Matthews/AP
Tuesday started off with a familiar ring to it for many residents of the Northeast: canceled or delayed flights, frustrating travel on icy highways, and the prospect of yet another major winter storm on its way.
In the New York metro area, residents woke up to a coating of snow that quickly turned to sleet and freezing rain. Boston and Philadelphia were not much different.
"We are having a prolonged cold spell," says meteorologist Henry Margusity, a severe weather expert at Accu-weather.com in State College, Pa. "We normally get some thawing in January."
In New York there has already been 30.9 inches of snow in Central Park, compared to a normal 27 inches. However, it's far too early to put the snow shovel away, says Mr. Margusity.
He is predicting that the Northeast will be hit with another major winter storm this coming Friday. At the moment he expects another 6 to 8 inches of snow. But, it could be a lot more as it heads toward New England.
"It could bring significant precipitation," he warns, since the storms have shown a propensity to intensify just off Cape Cod.
That won't be the only snow. By Tuesday of next week another storm will roll in followed by another storm later in the week.
"This will last right until February, we're just stacked with snow storms," says Margusity. "Even I am getting tired of it."
---