Rahm Emanuel ruling: big setback at a crucial time in Chicago mayor's race
Rahm Emanuel does not meet the residency requirements to run for Chicago mayor Feb. 22, an Illinois appeals court panel rules. Rahm Emanuel will appeal to the state supreme court, but a verdict in his favor is hardly assured.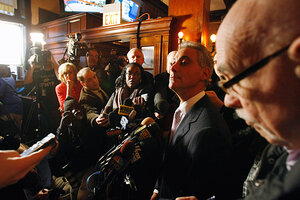 Charles Rex Arbogast/AP
Rahm Emanuel's Chicago mayoral campaign hit a major hurdle Monday with a 2-to-1 ruling by an Illinois appeals court that his name cannot appear on the ballot for the Feb. 22 election since he does not meet the residency standard for the office.
The ruling reverses the unanimous decision of the Chicago Board of Election Commissioners that Mr. Emanuel does meet the residency requirements. Emanuel will appeal to the Illinois Supreme Court and ask for an injunction to keep his name on the ballot.
He leads his closest opponent by more than 20 points in the latest Chicago Tribune poll and holds a huge fundraising advantage.
"I have no doubt at the end we'll prevail in this effort," Emanuel said in a news conference. "We'll now go to the next level to get clarity."
"I do believe the people of the city of Chicago deserve a right to make a decision about who they want to be their next mayor," he added.
But there's no certainty of how the state's Supreme Court – if it takes the case – will rule, and even if he does get his name reinstated, Emanuel will have lost valuable weeks of campaigning.
---