Gulf oil spill: Judge orders protections for people seeking damages
A US judge this week told claims czar Kenneth Feinberg, who oversees BP's escrow fund, to make clear to claimants that he is affiliated with BP. The system for recouping losses stemming from the Gulf oil spill is stacked against applicants, critics charge.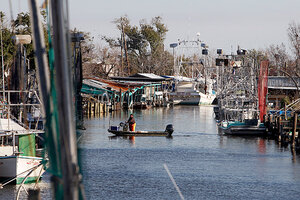 Patrick Semansky/AP
A federal judge in New Orleans this week ordered claims czar Kenneth Feinberg to stop telling people seeking to recoup losses related to the Gulf of Mexico oil spill that he is operating independently of BP.
Mr. Feinberg administers a $20 billion escrow fund that oil giant BP established to pay out damages to fishermen, tour-boat operators, hotel owners, and others who lost their livelihoods stemming from last year's Gulf oil spill. (He also oversaw the government compensation program for families of 9/11 victims.)
Critics of Feinberg's Gulf Coast Claims Facility (GCCF) say that because Feinberg is paid by BP, there's a built-in conflict of interest that stacks the entire claims process against the people who are seeking redress. Their allegations came amid Feinberg's revelation that damages are likely to total about $10 billion – or half the $20 billion that BP has laid aside for that purpose.
---