Full court press: Miami judge hands top school basketball team a key win
To the cheers of team members and fans packing his courtroom, a Miami judge blocks a decision by a state athletic association that would have kept Florida's top-ranked team from the playoffs.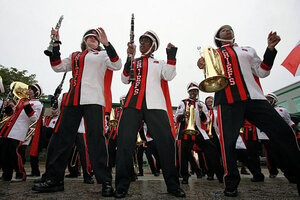 Wilfredo Lee/AP
The Krop Senior High School basketball team won perhaps its most important victory of the season on Wednesday – and they did it without sinking a single shot.
After an hour-long hearing, a state judge blocked a decision by the Florida High School Athletic Association (FHSAA) that would have kept the state's top-ranked high school basketball team from competing in post-season play in a case that revolved around one player's eligibility.
Instead, Miami-Dade Circuit Judge Spencer Eig issued an injunction that will allow the Miami team to compete in division playoffs and potentially the state championship.
RELATED: Sports in the US: Year-round madness
"I think it would be fundamentally unfair not to allow these students to play basketball," the judge said.
Members of the team, students, and other supporters who packed the courtroom wearing the school's colors, purple and white, gave the judge a standing ovation as he left the bench.
"The opportunity to play has been granted, and that's all we asked for," Krop High coach Shakey Rodriguez said after the ruling.
"It would have been devastating to not be able to play," said senior point guard Cody Mann. "We deserve the right to play."
Krop High has had a magical season. Their 20-3 record has them ranked No. 1 in the state. But the team's championship aspirations came crashing down a few weeks ago when the FHSAA began investigating whether one of Krop's players had submitted the proper paperwork to the association.
---