Snow storm wallops Oklahoma and Arkansas with three-foot drifts
Arctic air pushes unusually far south, bringing 10 to 20 inches of snow and three-foot drifts to Oklahoma, Arkansas, Kansas, and even parts of Texas.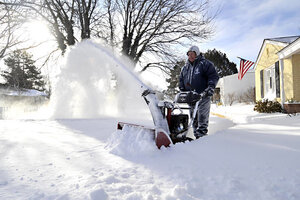 Michael Schumacher / Amarillo Globe-News / AP
A powerful winter storm is ripping through the central plains states Wednesday, dropping over a foot of snow in some areas and forcing temperatures to drop nearly 25 degrees below normal – the second major snowstorm in two weeks to hit the nation's midsection.
Heavy snowfall has forced statewide school cancellations, airport closures and government shutdowns in Oklahoma, as well as parts of Arkansas, Kansas, and north Texas. State highway patrols are urging travelers to stay off highways, to prevent more vehicles getting abandoned on roadsides.
"Multiple snow events like this are unusual, since it's hard to get the cold air that far south," National Weather Service (NWS) meteorologist Dan Peterson told the Associated Press on Wednesday.
Tulsa received 4.5 inches of new snow Wednesday morning. Added to the 14 inches it received last week, the city already approaching its record of 25.6 inches, set in the winter of 1923-1924.
Northeast Oklahoma and northwest Arkansas took the hardest hits, and will likely see up to 22 inches of snow by Wednesday night, according to the NWS. Harsh northerly winds accompanying the snow have caused snowdrifts topping three feet, making travel impossible in some areas.
As the storm works its way southeast, deep snow should coat every pocket of Arkansas. Little Rock has already received more than nine inches of snow, and the NWS says more will fall before the storm wraps up, around 9 p.m. Wednesday night.
---