Mandatory paid sick leave: How has it worked in San Francisco?
A survey of employers and employees after the first four years of mandatory paid sick leave gives the policy high marks, saying most employers support the new benefit and that it is rarely misused.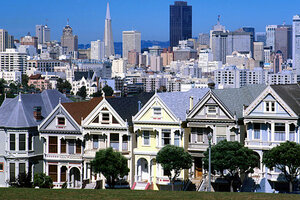 Bildarchiv Steffens/Newscom
When San Francisco four years ago became the first city in the country to require employers to offer paid sick leave to their employees, it was considered controversial because of the host of unknowns that came alongside: Would employees abuse the privilege? Would it cost too much for businesses? What unintended consequences would show up?
Now, the Institute for Women's Policy Research has released a survey of how the policy has worked for the first four years, during which city employers added 59,000 employees – 17 percent of the city's work force – to the rolls of those receiving that benefit. The results released Thursday, generally favorable according to analysts, are important for where the idea might go elsewhere in the country and as background in the national debate over health-care policy.
The study of 727 employers and 1,194 employees found that two-thirds of employers support the law. It found that it is rare for employees to misuse paid sick days and that workers tend to save them for emergency use and thus end up using far fewer than the maximum allowed.
"This report is the first empirical research on the effects of these policies, and that's why it's really important and could have a very decisive impact on efforts to promote similar policies on the municipal, state, and federal levels," says Nancy Folbre, a professor of economics at the University of Massachusetts.
The US is one of the few rich nations that doesn't mandate any form of paid sick leave, she says, with about 40 percent of workers lacking coverage. For part time, civilian, and low-wage workers, the percentage of those with the benefit is even lower, less then 33 percent, while about 90 percent of public-sector workers are covered.
---