Chicago turns out for 'historic' mayoral election with no Daley on ballot
Chicago election officials see increased turnout for the first mayoral election since 1985 not to have Richard M. Daley's name on the ballot. Thirty-one percent of voters showed up last time.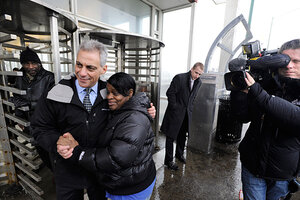 Paul Beaty/AP
Chicago voters heading to polling places Tuesday are encountering a rare Chicago sight: a ballot without the name Daley printed on it.
"It felt good," said Anthony Forbes, lifelong Chicago resident, as he exited an apartment lobby in the city's Rogers Park neighborhood, where Mr. Forbes said he has voted in each election since Mayor Richard M. Daley's first victory in 1989. "I voted for Daley for so long. But it's not like I ever had a choice."
For years, "King Richard" faced no serious election challenges, handily winning even as voter turnout dropped. He served one year longer than his father, Richard J. Daley, Chicago's mayor from 1955 to 1976, who died in office. In 2007, the city's last mayoral election, the younger Mr. Daley won about 70 percent of the vote – but only 31 percent of voters showed up to the polls.
Other historic aspects of Tuesday's election:
For the first time in 64 years, the ballot lists no incumbent mayor.
None of the four leading candidates is Irish Catholic, the pedigree for every Chicago mayor except Harold Washington, Daley's predecessor who died in office in 1987, says longtime Chicago political consultant Don Rose.
Extraordinary burdens face the new mayor: a $654.8 million deficit, a problematic school system, crime concentrated in economically marginalized neighborhoods, and a nearly $600 million pension obligation.
---