Julian Assange: Extradition to Sweden just a stop en route to US?
Julian Assange should be extradited to Sweden, a British judge ruled Thursday. His attorneys argued that the US will extradite him from there, putting him at risk of a death sentence.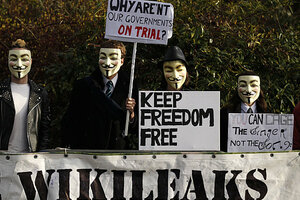 Matt Dunham / AP
WikiLeaks founder Julian Assange should be extradited to Sweden to face questioning on sexual assault allegations, a British judge ruled on Thursday. [Editor's note: The original version misrepresented the reason for Assange to be extradited.]
Assange, currently under house arrest in Britain, isn't in immediate danger of being hustled onto a plane for Stockholm. He'll appeal the ruling, and that will hold things up for weeks, if not months. But the judge's decision makes it much more likely that he will end up in Sweden eventually.
If that happens, will it be only a matter of time before Swedish authorities send him on to the US, as his lawyers have argued?
Well, we don't know. That depends on whether the US Department of Justice decides it can make some a case against Assange for leaking thousands of classified US documents – and whether he is extradited to face those charges. But Thursday's ruling probably makes no difference as to whether he eventually stands in an American court. He could as easily be sent to the US from Britain as from Sweden. The US has extradition treaties with both countries, after all.
"I'm not sure Sweden would be any more interested in extraditing him than Great Britain would be," says Carl Tobias, a University of Richmond law professor. "You can't fault his lawyers for making the argument, though."
---