Shuttle Discovery's crew: a moment to reflect amid rush to complete tasks
Tackling their final chores before departing the International Space Station on Monday, shuttle Discovery crew members acknowledge with some sadness that the mission is the orbiter's last.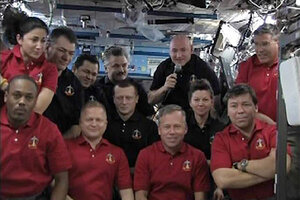 NASA/Reuters
Astronauts are making a final push to prepare a new module for the crew of the International Space Station and make needed repairs to a key piece of station hardware before the space shuttle Discovery and its six-member crew bid a final farewell to the orbiting outpost on Monday.
This marks the final mission for Discovery – and final shuttle flight for its crew – as NASA phases out the space-shuttle program. The last mission is scheduled for the end of June.
When asked about the mission's status as Discovery's last, crew members typically have replied that they are focused on accomplishing the mission's tasks and haven't given much thought to the milestone.
But as Discovery's departure approaches and crew members come closer to wrapping up their tasks, it's clear they are giving the orbiter's curtain call more thought.
Describing moments when he could look out on the orbiter from the space station's cupola, shuttle commander Steven Lindsey allowed during a press conference on Friday that reflecting on Discovery's record – a cumulative year in orbit from 39 missions in 27 years of operation – "is kind of bittersweet and quite frankly sad knowing that when we land, that will be it for this vehicle."
---