Space shuttle Discovery wraps up mission that went 'above and beyond'
The space shuttle Discovery left the International Space Station behind having done everything it was scheduled to do and more. It is set to land Wednesday.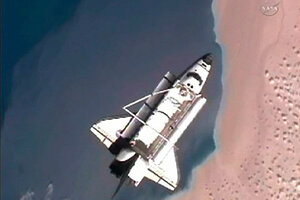 NASA TV/Reuters
If all goes well and the space shuttle Discovery and its six-member crew return safely to Earth on Wednesday, the orbiter's final trip may well go down as the program's "above and beyond" mission.
That's the bumper-sticker phrase given the mission by Kenneth Todd, who heads the International Space Station's mission management team, during a briefing for reporters on Monday.
Not only did the craft and crew meet the mission's main goals – delivering cargo, a new pressurized storage module, an outside storage platform, a robot-astronaut prototype, and tons of cargo.
Spacewalks and indoor tasks were performed so quickly and efficiently that managers added two days to Discovery's docked time at the space station to help the station crew get ahead on some jobs that would otherwise have fallen to space-station crew members.
Typically, "we don't do docked missions and add a couple of extra days," he said.
"Every one of these missions tend to take on their own character," Mr. Todd said. On this mission, "we had some bumps along the way."
Indeed, the launch was delayed for several months as engineers tackled a problem with Discovery's external fuel tank.
But once the shuttle and crew were in space, the orbiter's systems performed so well that "nothing threatened to change the mission profile" or the objectives the mission aimed to accomplish, Todd said.
---