What time is space shuttle Discovery set to land?
Space shuttle Discovery, returning to Earth Wednesday from its last mission, is expected to land in Florida just before noon Eastern Standard Time. Mission managers laud a nearly flawless flight.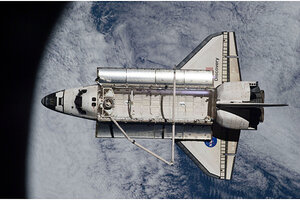 NASA/Reuters
Space shuttle Discovery is making final orbits of its final mission, as the craft's six-member crew makes last-minute preparations for landing at the Kennedy Space Center at 11:57 a.m. Eastern Standard Time.
Since Discovery's launch on Feb. 24, the orbiter's performance has been virtually flawless, mission managers say, given a dearth of technical glitches during the 13-day trip to the International Space Station (ISS).
"I would be hard-pressed to find a mission of any one of the orbiters that has been cleaner," said LeRoy Cain, who heads the shuttle mission management team, during a briefing Tuesday.
Space shuttle program 101: Was it worth it?
Starting with the launch and ascent, "the entire system has been as clean or cleaner, and the performance has been as good or better than any that we've every flown," he said, referring not only to the shuttle's performance on orbit, but also to the performance of the entire system – from ground support activities to the engines and external fuel tank, which has been modified since the Columbia accident in 2003 to reduce the risk that the orbiters would be damaged by ice and foam insulation that the tanks shed during ascent.
Tuesday evening, the mission management team cleared Discovery's thermal-protection system for reentry after a final inspection of the tiles and other heat-protected surfaces revealed no damage that would endanger the orbiter and crew.
SOUND OFF: How has the US benefited from the space shuttle program?
---