Japanese nuclear reactor update: Amid signs of progress, new problems
Scientists warn of risks from spent-fuel cooling pools and plutonium-rich, mixed-oxide fuel inside one nuclear reactor, even as the No. 1 and No. 3 reactors appear to be coming under control.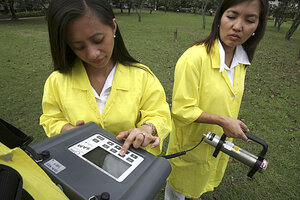 Bullit Marquez / AP
Two Japanese nuclear reactors whose cooling systems were knocked out following an earthquake and tsunami were joined Monday morning by a third reactor that lost its cooling system. All three now are assumed at risk of partial or total meltdowns of their radioactive-fuel cores.
Still, one US nuclear expert said there was at least a glimmer of positive news emerging, with two of the three reactors showing signs of coming under control.
"Units No. 1 and No. 3 seem to be trending to more stable conditions and increasing safety margins," said Dave Lochbaum, a nuclear engineer and director of the Union of Concerned Scientist Nuclear Safety Program (UCS), a US nuclear safety watchdog group, in a conference call with reporters. No. 2, however, remains in an unstable, volatile situation, he said.
Two explosions over the weekend – apparently due to hydrogen buildup – ripped apart buildings housing the No. 1 and No. 3 reactors at the Fukushima I plant, about 150 miles north of Tokyo and owned by the Tokyo Electric Power Co. (TEPCO). The explosions injured workers and complicated efforts to flood the reactors to keep them cool.
Yet those explosions did not puncture the steel containment vessel – shaped like an inverted light bulb – now keeping high amounts of radioactivity bottled up, the plant owner said. Even so, all three reactors' cores have been exposed to air, and so are assumed to have melted or become damaged to some degree, Japanese and international authorities reported.
---