Meltdown 101: What is a nuclear reactor meltdown?
Metal rods melt in a meltdown, but it's not synonymous with disaster. In Japan, three reactors at the Fukushima I nuclear power plant appear to have experienced at least a partial meltdown.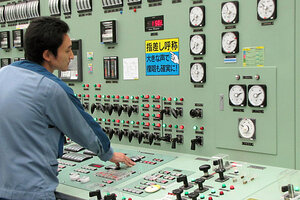 Kyodo News / AP
Combine the word "nuclear" with the word "meltdown," and you get something which sounds really scary to the average person. But all those scientists on cable news talking about what's happening in Japan aren't always clear about what a nuclear meltdown is, and isn't. Is it an explosion? Will it burn a hole to the center of the earth? Does it spray radioactive stuff into the air, poisoning the surrounding landscape?
The answers: No, it's not an explosion, though there can be some explosive side effects. We've seen that already in Japan, where a couple of reactor buildings have blown up. No, it would not burn a hole to the center of the earth. The movie "The China Syndrome," which popularized that notion, was fiction. And whether a meltdown is an environmental disaster depends on a number of factors, including how extensive it is, and how well the nuclear power plant's safety features can contain it.
First, let's consider what a nuclear reactor is: a giant, glowing red-hot coal. That's a simplistic way of describing it, anyway. Nuclear reactors, just like fossil fuel-burning power plants, make electricity by heating up water so it turns into steam and drives a turbine, which powers a generator.
To use another analogy, the nuclear fission which creates this heat is a bit like the chaos you'd get if you toppled a giant pyramid of canned tomatoes. First, one can would fall, and then it would bounce off several more cans, knocking those over, and then they'd all bounce downhill, creating an ever-expanding chain reaction. And each time a can hit another can, it would produce a spark of heat.
---