Japan nuclear crisis eclipses Three Mile Island, nears 'Chernobyl league'
Fifty workers and fire hoses are all that remain at Japan's Fukushima I plant to cool three hot reactors and six pools containing spent fuel rods – perhaps for months to come.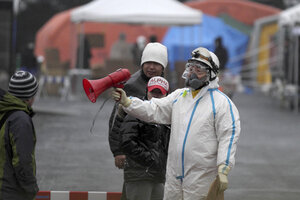 Gregory Bull/AP
Resolution of Japan's nuclear crisis hangs on the decisions – and actions – of about 50 remaining workers, laboring amid intense radioactivity and smoke, as they try to prevent the six-reactor Fukushima I plant from becoming a nuclear mess to rival the Chernobyl disaster, according to US nuclear experts monitoring the situation.
A spike in radioactivity at the site on Monday led authorities to send to safety most workers at the plant, which is 150 miles north of Tokyo. If the remaining few dozen personnel using just fire hoses are unable to keep three "hot" reactors – plus six pools containing spent fuel rods – cool, a meltdown would soon occur, these experts say. About 30 tons of water boil off the reactors each hour and must be replaced to prevent the reactor cores from melting down.
"This is definitely in the Chernobyl league now," says Frank von Hippel, a nuclear physicist at Princeton University. "If the reactors go, that's bad, of course. But the real concern at this point is if those ... spent-fuel pools catch fire. There are many Chernobyls' worth of radioactive material in there."
Radiation levels at the Fukushima I plant spiked briefly on Monday to more than 1 million times background radiation, before subsiding Tuesday to lower but above-normal levels, according to Edwin Lyman, a nuclear physicist and reactor-safety expert with the Union of Concerned Scientists in Washington. All but about 50 of 800 workers at the plant were told to leave, according to Japan Broadcasting Co.'s NHK World website.
---