Libya no-fly zone: Moment of reckoning for the United Nations?
The United Nations' early response to the Libya crisis shows it can be relevant, some say. Now the Security Council is poised to take up a no-fly zone.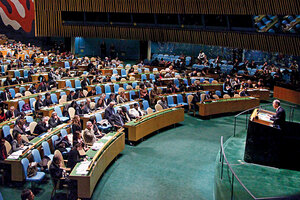 Bebeto Matthews/AP
United Nations Secretary-General Ban Ki-moon was at the Holocaust Museum in Washington on Feb. 28, fresh from meeting with President Obama, when he addressed the crisis that stands as a defining test for the global institution he administers.
"In Libya, a regime that has lost all legitimacy has declared war on its people," Mr. Ban said. "It is up to us, the community of nations, to stand against this crime."
Ban was speaking 48 hours after the UN Security Council had voted unanimously at a rare Saturday session to adopt a resolution targeting the regime of Col. Muammar Qaddafi. In addition to imposing economic sanctions on Mr. Qaddafi, his family, and the governing elite, the measure established an arms embargo on Libya and referred it to the International Criminal Court (ICC) in The Hague for possible investigation of crimes against humanity.
Within days, the 192-member UN General Assembly would go on to suspend Libya from the UN's Human Rights Council – a first for the Assembly, which is dominated by developing nations. Now the Security Council appears poised to introduce a resolution that would call for the international community to enforce a no-fly zone over Libya. In addition, the ICC's chief prosecutor has announced he has grounds to formally launch an investigation of the crimes committed by Qaddafi and his cohorts against the Libyan people.
---