Radiation exposure: Why US is confident West Coast isn't in danger
Radiation exposure fears appear to have led to a run on iodine tablets in the US. But federal officals say that is an overreaction. They say weather patterns would disperse radiation from Japan to the point that it would present no health risk by the time it hits American shores.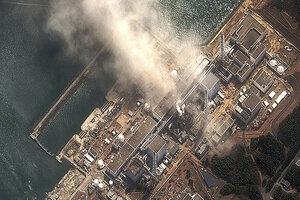 DigitalGlobe/AP
Japan's nuclear crisis has made many people in the US concerned that radioactive contamination might reach American shores. Potassium iodide – a compound that if ingested guards against some of the most dire side effects of radiation exposure – is in short supply in some areas, particularly the West Coast.
Anbex Inc., a Virginia firm that is a leading supplier of potassium iodide, sold out its stockpile of tablets over the weekend. The company's website notes that new product is not expected until April 18.
But US officials on Tuesday said that they believe the worry driving this demand is an overreaction.
"I think there's essentially no concern in terms of the health effects on American shores," Secretary of Energy Steven Chu told reporters after testifying before the House Energy and Commerce Committee on his department's budget.
At the White House, spokesman Jay Carney made the same point, repeating a statement made earlier by a top Nuclear Regulatory Commission official.
---
Follow Stories Like This
Get the Monitor stories you care about delivered to your inbox.