Japan nears key fix for nuclear plant, but could it come too late?
A top nuclear regulatory official testified Wednesday that Japan's nuclear plant might already be too dangerous to allow repairs, even though external power could soon be available to run crucial water pumps.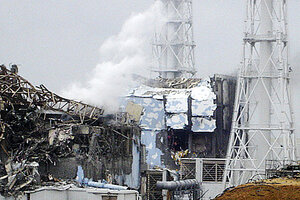 Tokyo Electric Power Co. via Kyodo News / AP
For embattled workers at a quake- and tsunami-stricken nuclear power plant on Japan's northeast coast, the cavalry may finally be arriving – in the form of electricity from outside the plant to run pumps needed to supply critical cooling water to reactors and spent-fuel pools.
If the electricity arrives in time and workers can prevent the Fukushima I plant's predicament from becoming more grave, the utility faces a long road to what several nuclear engineering specialists say will be the eventual closure of the plant.
In the meantime, US and Japanese officials are increasingly at odds over what is transpiring at the plant and how dangerous its environment has become to workers seeking to gain control over the plant's reactors. Since the 9.0 quake and tsunami deprived the plant of external power, reactors have been beset by partial meltdowns and the buildings damaged by fires and explosions of hydrogen gas. Radioactive steam plumes have risen from the damaged buildings.
Over the past two days, concerns have grown over the status of large, concrete, water-filled pools that provide temporary storage for spent nuclear fuel. In testimony before Congress on Wednesday, US Nuclear Regulatory Chairman Gregory Jazcko told lawmakers that all the water in the spent-fuel pool at the No. 4 reactor likely had run dry.
Japanese officials dispute that. But if Dr. Jazcko is right, that leaves a full core's worth of fuel – removed from the reactor by workers in November during a maintenance outage – to overheat and spew radiation. If the temperature rises high enough, the metal cladding that encases the uranium fuel pellets in the fuel rods can catch fire.
---