Feds to investigate civil-rights claims against L.A. bus authority
Activists in L.A. say the Metropolitan Transportation Authority has discriminated against minorities and the poor by cutting their bus routes first. The MTA says it welcomes the federal audit.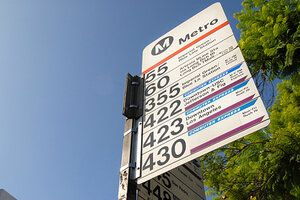 Mary Knox Merrill / The Christian Science Monitor / File
Outside the Los Angeles Metropolitan Transportation Authority building, protesters chanted, waved signs on cue, and gleefully celebrated a decision they hope will affect city transit authorities coast to coast: The Federal Transit Administration will conduct a comprehensive civil-rights audit of the MTA.
At issue is the long-running allegation that the MTA, the nation's second-largest metropolitan transit agency, discriminates against minorities and low-income residents by cutting their bus routes first in times of financial belt-tightening. Other transit systems have come under similar federal scrutiny in the past, but the saga in Los Angeles dates to 1997, when a federal court forced the MTA to provide transit "without regard to race, color, or national origin."
Robin Kelley, an urban history professor at New York University, called the 1997 ruling "the most important civil rights ruling since 1954's Brown v. Topeka" to end US school desegregation. What followed that was a consent decree, forcing the MTA to buy new buses and create new routes, but when the consent decree ended in 2006, the MTA began making cutbacks again.
Recently, the MTA announced that it would reduce bus service 5 percent in June, in addition to eliminating nine bus lines in three years.
---