Why US differs with Japan over dangers of stricken nuclear plant
US and Japanese authorities give differing accounts of the situation at the Fukushima I nuclear plant and the size of the danger zone. Different interpretations of the same data?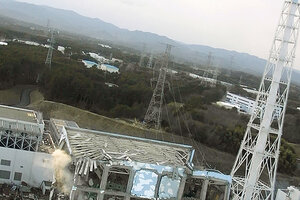 Tokyo Electric Power Co./AP
As the Japanese nuclear crisis appears to deepen, US and Japanese authorities have begun to give different accounts of the situation at the stricken Fukushima I nuclear plant. They have also started to differ on the size of the danger zone. US Nuclear Regulatory Commission Chairman Gregory Jaczko recommends that American citizens in Japan stay 50 miles from the plant, while Japan has evacuated citizens within a 12-mile radius and told those within a 20-mile radius to stay indoors.
What's causing this split? Does the US have different sources of information than the Japanese do, or are US officials interpreting the same information in a different manner?
Right now it seems the latter scenario is the most likely one. The US does have its own experts on scene: Mr. Jaczko said Wednesday that NRC staffers are working alongside Japanese counterparts in Japan to interpret data. And there are reports that the US Air Force is flying Global Hawk unmanned aerial vehicles over the scene to take pictures and gather other measurements.
---