Nuclear power report: 14 'near misses' at US plants due to 'lax oversight'
The Nuclear Regulatory Commission failed to resolve known safety problems, leading to 14 'near-misses' in US nuclear power plants in 2009 and 2010, according to a new report from a nuclear watchdog group.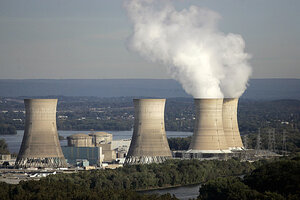 Carolyn Kaster / AP
Nuclear plants in the United States last year experienced at least 14 "near misses," serious failures in which safety was jeopardized, at least in part, due to lapses in oversight and enforcement by US nuclear safety regulators, says a new report.
While none of the safety problems harmed plant employees or the public, they occurred with alarming frequency – more than once a month – which is high for a mature industry, said the study of nuclear plant safety performance in 2010 by the Union of Concerned Scientists, a Washington-based nuclear watchdog group.
The report, the first in what the UCS expects will become an annual study, details both successes and failures by the US Nuclear Regulatory Commission, which it calls "the cop on the beat." Charged with overseeing America's fleet of 104 nuclear reactors, the NRC made some "outstanding catches," but was also inconsistent in its oversight, seeming at times to nod off when most needed.
"The chances of a disaster at a nuclear plant are low," the report states. "But when the NRC tolerates unresolved safety problems – as it did last year at Peach Bottom, Indian Point, and Vermont Yankee – this lax oversight allows that risk to rise. The more owners sweep safety problems under the rug and the longer safety problems remain uncorrected, the higher the risk climbs."
---