Critics cite 'severe seismic risk' at California nuclear power plants
State and federal legislators voice concerns about the earthquake risk at two California nuclear power plants – as well as the adequacy of safety protocols in place there.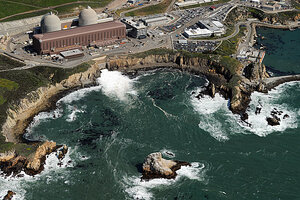 Mark Ralston / AFP Photo / Newscom
California legislators at the state and federal levels are ratcheting up pressure on the Golden State's two operating nuclear power plants – both, like Japan's stricken Fukushima I, located in seismically active regions near the Pacific coastline.
California's nuclear power plants – one in San Onofre, just north of San Diego, and the other in Diablo Canyon, near San Luis Obispo – together provide nearly 15 percent of the state's electricity. Scientists and nuclear industry watchdogs note that the aging facilities began operations in the 1980s and have both been cited for maintenance and safety issues in recent years.
At a legislative hearing Monday, state lawmakers challenged what they called the overconfidence of engineers and plant employees, pointing out that Japan's earthquake was many times worse than Fukushima's safety measures had been designed to withstand. They also raised concerns that recent geological evidence indicated a higher earthquake risk for both plants than their designers anticipated.
In the wake of the Fukushima I disaster, "we really need to go back and take a hard look at safety assumptions for systems and safety practices in the plants themselves," says Naj Meshkati, a professor of civil and environmental engineering at the University of Southern California Viterbi School of Engineering.
---