Japan nuclear crisis: Will radioactive food reach US supermarkets?
Worry not. While Japan has banned the sale of some produce from the area near the reactors, similar contamination is highly unlikely in the US, as is the import of tainted Japanese food.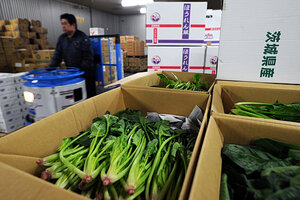 Shinnosuke Ito/Asahi Shimbun/AP
Japanese authorities say they have found radiation-tainted spinach and raw milk near the Fukushima nuclear plant. As a result they have banned the sale of leafy vegetables and milk from the surrounding countryside. That sounds like a serious situation. Is there any chance that foodstuffs in America will be tainted by radioactivity?
No, they probably will not. Any plume of radioactivity from the devastated plant would be so diluted by the time it reaches the United States that it would have no discernable effect on West Coast vegetables. Wind and rain would essentially mix any such emissions into the vast volume of the atmosphere of the Northern Hemisphere, according to Tom McKone, a senior staff scientist and health-risk exposure expert at the Lawrence Berkeley National Laboratory.
"The level of dilution over the Pacific Ocean reduces concentrations by a factor of billions before reaching the US," writes Dr. McKone in an analysis of the situation published Tuesday.
---